How do I convert hands?
Paste and submit the complete hand history here: http://weaktight.com
This will take you to view the hand. You can now convert the hand to any of the formats as described by the tabs at the top of the page. Select the appropriate tab to convert the hand.
How to convert hands for each Poker Room
Why do I have to login to convert hands?
Accounts are used to save your settings for future posts. They also allow to keep track of all your hands and sessions. If you save your cookies you will never have to login again.
How do I delete a hand, session or group?
To delete hands, use the delete link at the top right of the hand you posted. You currently cannot delete sessions or groups.
How do I search for my friends?
Currently you cannot search for friends on WeakTight. However, if your friend shares a hand with you, it is possible to browse their profile by clicking their username.
How do I allow a friend to access a private hand?
Visit your friend's profile page on WeakTight and 'Follow' them. This will tell us you are happy for them to view your private hands. Unfollow them to revoke access.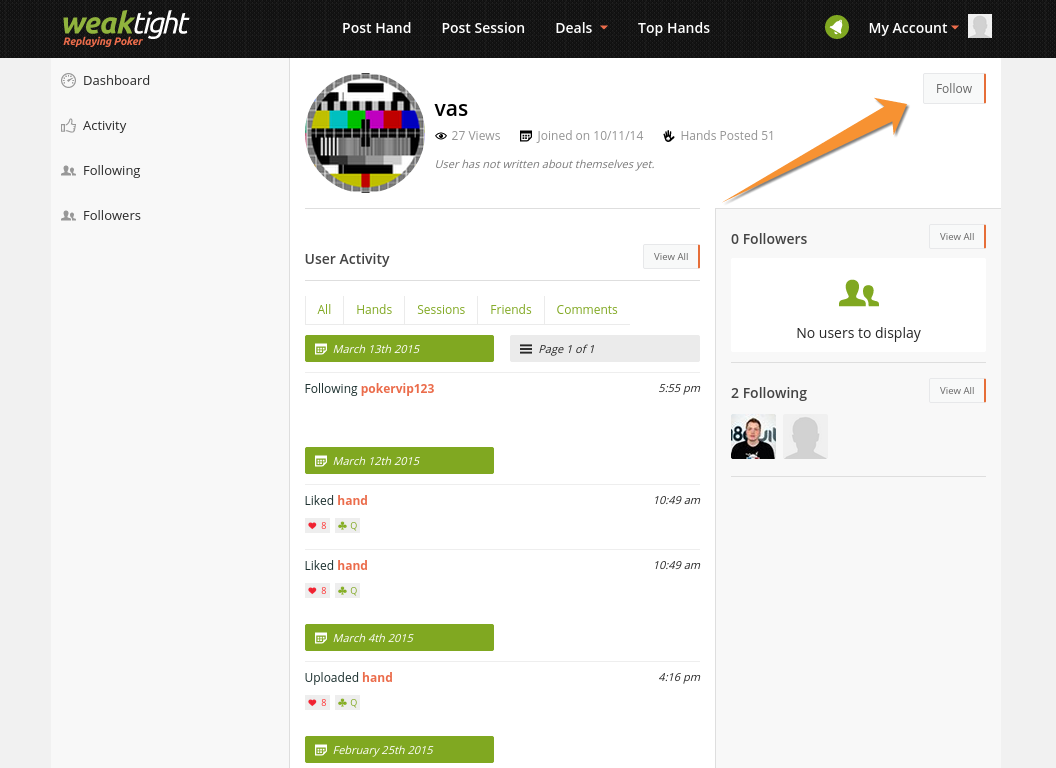 How do I add friends?
Find your friend's profile page or any hand that your friend has posted and click on the "Request Friend" button to the right of their profile picture.
Can I convert a hand without registering?
No. You simply need to pick a name and a password to register. It will keep a log of all your posts. It will also save your settings. However, we are investigating ways to support this.
How do I set my iPoker screen name?
When you post an iPoker hand using the text from Poker Tracker there is a drop down box under options on the right-hand side of the posted hand that reads set iPoker screen name, select your screen name from this list and it will be saved for any future iPoker hands you post.
How do I add my PokerTracker2 stats to my hands?
First you must go through the configuration guide (weaktight.com/pokertracker/). Once you have set up Poker Tracker, then on any subsequent hand that you post you will be able to add stats by clicking the add profile check box on the posted hand's page in the options section on the left.
The forum I want to post on isn't supported. Can weaktight.com add support for new forums?
Yes, please email Hello@WeakTight.com with the details.
The poker site I play on isn't supported. Can weaktight.com add support for new poker sites?
Yes, post the hand that's not supported and as more hands from the new poker site come in we will add support. Alternatively you can email hand histories to Hello@WeakTight.com.
Can I post stats from PokerOffice, PT3?
No. We currently do not support these formats. However, if enough users request support we will add it. Either contact us or email Hello@WeakTight.com
Where do I find the Sklansky Bucks calculator?
On any hand that you've posted that goes to showdown simply click the "Show Equity" check box in the options section on the right-hand side of the hand page.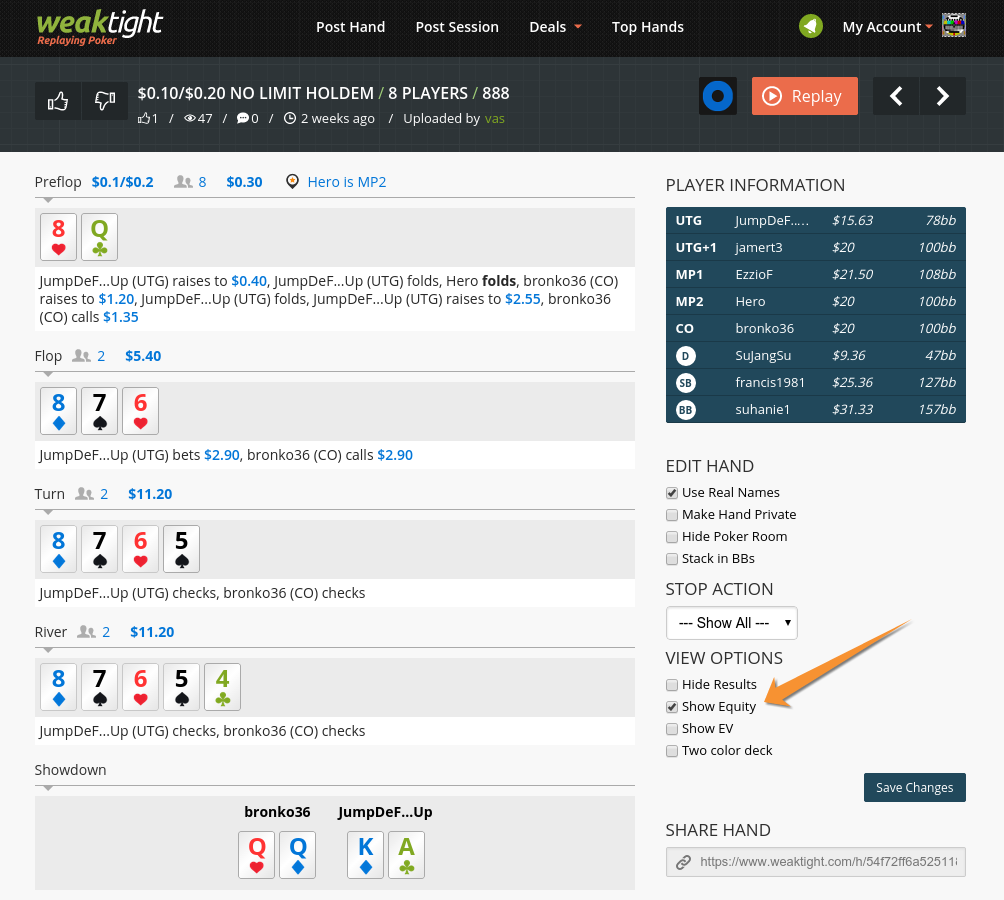 How do I change or recover my password?
You can change your password from your 'My Account' area. Or the password reset form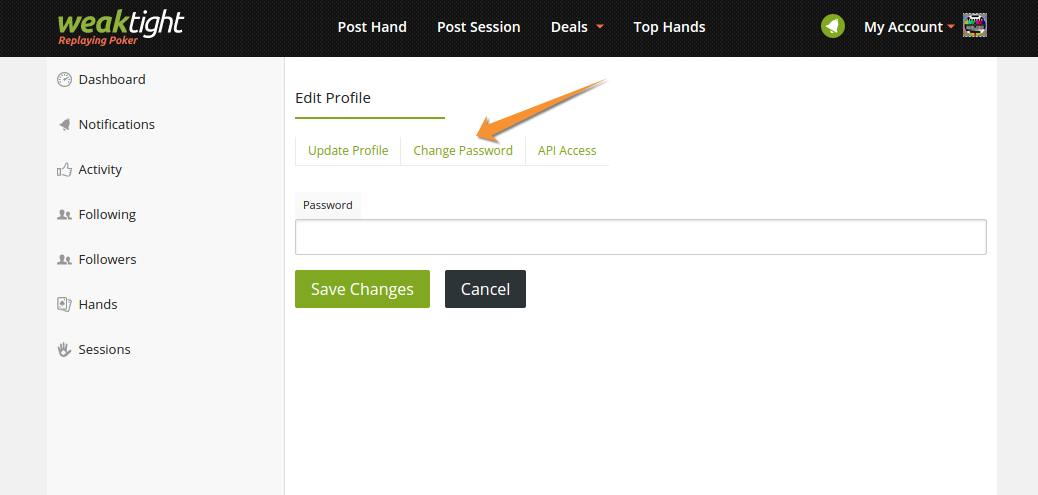 I've forgotten my username?
We currently do not have any "forgotten username" form. Please contact us or email Hello@WeakTight.com and we will manually track down your username.
I have feedback or want to report a bug.
Thanks for caring. We are not perfect and your feedback really helps us - For real. You have three weapons at your disposal: